2018 YPG All in for ALS Pub Crawl
Date:
Time:
12:00 PM - 4:00 PM
Location:
The Anthem
Chicago, IL 60622
United States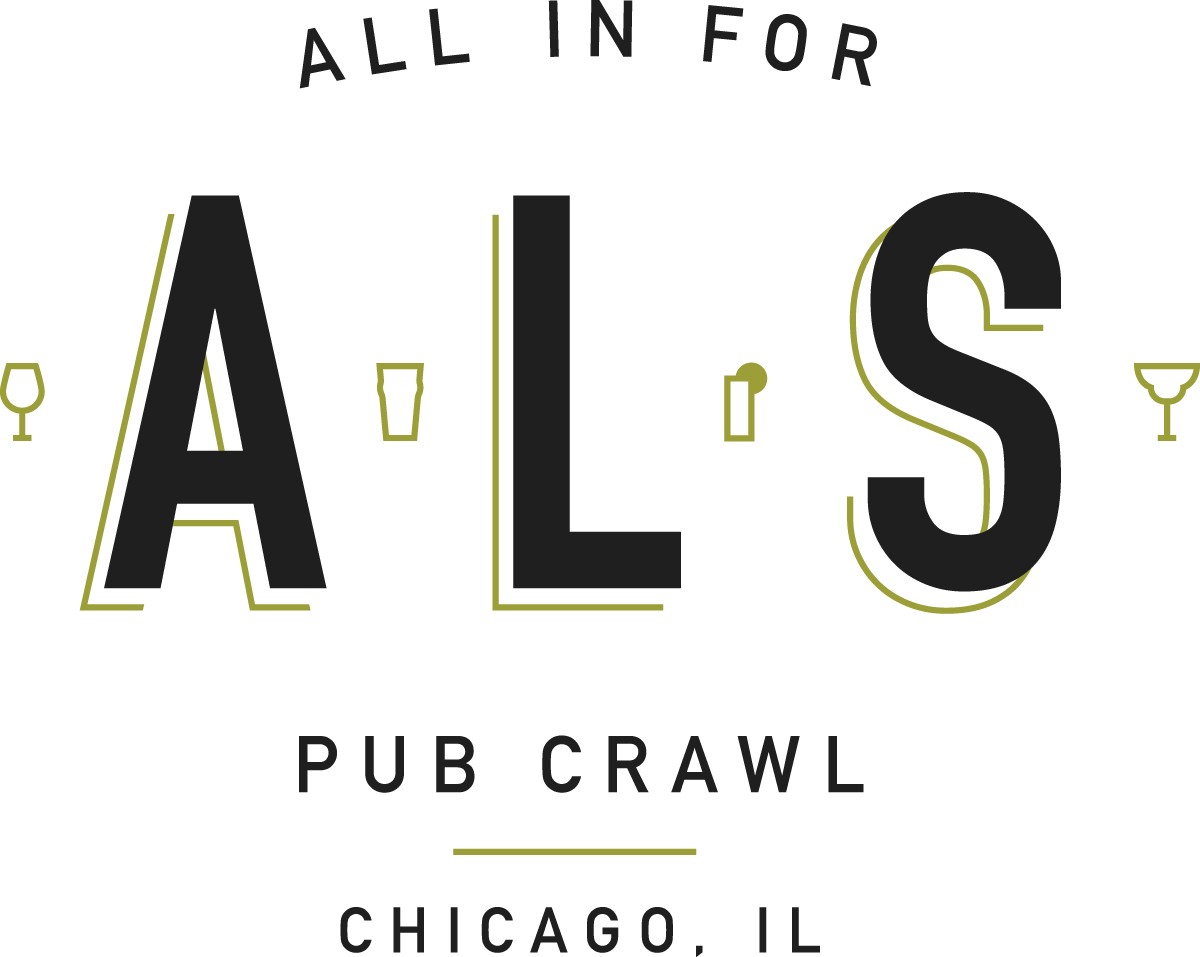 Hosted by the Young ProfessionALS Group
Sunday, July 8, 2018
Noon - 4pm

Join our Young ProfessionALS Group for its 4th Annual ALS Pub Crawl. Set in the heart of Chicago's Wicker Park neighborhood, experience all the fun this area has to offer. With drink specials at every bar and free pizza to cap off the afternoon, join us as we spend the day supporting Chicagoland's leader in comprehensive ALS care.

Remember to get your ticket ahead of time to save money. Pre-registration closes at 12pm on Friday, July 6th. All proceeds from ticket sales go directly to support people living with ALS in the Chicagoland area.

MUST BE 21 OR OLDER WITH PROOF OF ID AT THE DOOR
Entry Fee:
Pre-event Ticket - $30
At-the-Door Ticket - $40
Pre-event online tickets sales have ended. You may purchase day-of tickets at the first stop (The Anthem) on the pub crawl.
Itinerary:
12pm: The Anthem (1725 W Division St.)
$3 Miller Light, Bud Light, Lone Star, Coors Light, and High Life
1pm: The Boundary (1932 W. Division)
$4 beers, Half Price Wine, & Appetizer Discounts
2pm: Innjoy (2051 W. Division)
$6 Vodka lemonade pints, $7 Milagro Margarity Pints, $3 Miller Lite Pints, & $4 Sweetwater IPA cans
3pm: Easy Bar (1944 W Division St)
$5 Bloody Mary's, $5 Moscow Mules, $2.50 Domestic beers

About the Les Turner ALS Foundation
Founded in 1977, the Les Turner ALS Foundation is the leader in comprehensive ALS care in Chicagoland. Although we're one of the largest independent ALS groups in the country, we treat each person like family and we're committed to supporting them every step of the way. Our individualized approach ensures each person living with the disease receives the best quality of care, and our local community of support provides their loved ones with answers and encouragement. Our Les Turner ALS Center at Northwestern Medicine is led by the most well-respected and successful clinicians and researchers in the field, advancing vital care and research in pursuit of life-enhancing treatments and a cure. Learn more at lesturnerals.org.