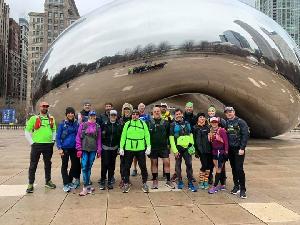 2021 Turkey Trot for ALS
Alfredo Pedro Perro World's Longest Turkey Trot
In 2013, ultramarathoner Alfredo Perro complained to his friend Scott Kummer that he wanted to run one last 100-mile race before the end of the year. They decided to simply run from the "Bean" in Millennium Park in Chicago to the City of Milwaukee for a roughly 100-mile Turkey Trot on Black Friday. They called it the "World's Longest Turkey Trot." Shortly thereafter, Alfredo was diagnosed with ALS. Alfredo fought a battle with the disease but lost his life to it in November 2015. Every year a few runners have carried on this tradition in his honor by running from the "Bean" in Chicago to the Milwaukee Amtrak Station.
From November 26-28, the runners will run as many miles as possible while raising awareness and money for ALS.

Help us reach our goal of $10,000!
View More

Scotty Kummer
$153

Team Honor Roll
AnnaBananafilesShubert
$25
Badgerland Striders
$1,000
Billy & Risa Clem for John Godinet
$36
Eric and Debbie Lindroth
$150
Eric and Krista Rose
$102
Gus and Vicki Tsesmelis
$25
In recognition of Holly Lindroth for being awesome.
$25
Megan Fitzgerald-McGowan
$51
Ten Junk Miles Podcast
$2,619
The Wombat at LN Engineering
$512
Top Donors
Ten Junk Miles Podcast
Badgerland Striders
The Wombat at LN Engineering
Cammie and Ian
Shaebay